Summary
Chapter 32

3 pages

4 MINUTES
Intro for readers in English: My thesis is in Swedish to increase its impact in Sweden substantially. If you find a topic (link) interesting, please enter the URL in Google Translate.
A thesis shall, according to the Higher Education Ordinance
... demonstrate the ability to critically, independently, creatively, and with scientific accuracy identify and formulate questions [...] - demonstrate their ability to significantly contribute to the development of knowledge through their own research [...] - contribute to the development of society and support the learning of others.
Knowledge development - a central theme in the thesis - is interestingly broader and more important than too much focus on contributions to the theoretical literature. The thesis contributes in several ways to the collegial conversation (Ch. 14.2.1).
Dissertations and other research not read or read by very few 'doesn't exist'. That is why research communication (Ch. 13) is integral to strengthening scientific and collegial conversations. Research and encyclopedias have in common that they both depend on having a high Reference status (Ch. 5). A Ph. D thesis in web format - a web thesis - which is also designed as a service, is an innovation for dissertations that strengthens communication.
Preface (Ch. 0) och Read me (Ch. 2) support reading and understanding the thesis.
32.2

Research questions

The research questions are presented in Start and research questions (Ch. 4.3).

The research questions have their basis in real problems and opportunities within ecosystems and business models for encyclopedias and research communication. The goal is to contribute to increased knowledge about some of these questions' "challenges" within the framework of Knowledge development in theses (Ch. 14).

Research that wants to reach out in a world where competition for readers' time and attention is fierce must strengthen its narrative. Bengt Kristensson Uggla, professor of philosophy, culture, and business management at the Swedish University of Finland Åbo Akademi, writes in 'Slaget om verkligheten' (Kristensson-Uggla 2002, 2012) that science cannot deliver "Truths", but "a quest for truth".

... All this suggests that science will live on new terms in the future. When science is less and less able to deliver irrefutable evidence, we find ourselves in a situation where science needs a scientific rhetoric to instead develop its ability to convince. (Ibid. p. 212)
Developments in IT, telecoms, search engines, and Wikipedia over the past 20 years have radically changed the competitive situation and business models

(Ch. 9)

and ecosystem

(Ch. 8)

for the companies that produced printed Encyclopedias

(Ch. 28)

. Are there structural

relationships

between new technologies, reference status, and business models for encyclopedias?
Research communication

(Ch. 14)

is an increasingly important issue in the world of higher education, but what are the driving forces behind it? Almost no research is 'format neutral'

(Ch. 14.4)

. The format has - in addition to the content - great importance for successful communication. Think of the company Apple without smart design. Can theses in web format - Webbavhandlingar

(Ch. 25)

- contribute to increased communication and benefit? What can a

prototype

for a web thesis that aims to serve

both

a small academic group and a wider readership look like?
History shows that new technologies

(Ch. 14.2.3)

regularly have driven major changes in science, how research is communicated and scientific conversations.

4.6 Technology and research communication

Web-based technologies are very powerful and widespread.

Can web theses become a new and Third ecosystem for PhD theses (Ch. 26) parallel to the ecosystems for dissertations in book format and as PDF documents?

Can a normative model for encyclopedias contribute to strategies for tomorrow's encyclopedias? How do you construct such a model in a research context? Questions and issues concerning a modern and free-for-all digital encyclopedia based on signed articles are discussed in the chapter Model for encyclopedias: e-Diderot

(Ch. 29)

.
32.3

Three central images in the thesis
A) Reference status and business models for encyclopedias
There is a dynamic relationship between an encyclopedia's Reference status (Ch. 5), content, and business models. Reference status is based on the older concept of "cognitive authority", and is not created in the same way in a digital world as in an analogue world. This requires new business models and creates new ecosystems (Ch. 8).
B) Ecosystems and business models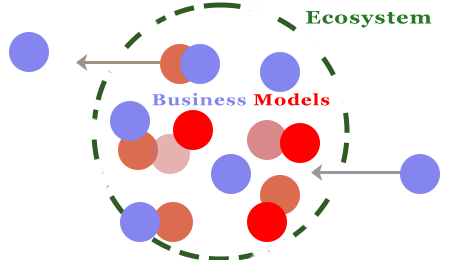 The figure shows a dynamic ecosystem (Ch. 8) with many companies with more or less different business models. That some circles (business models) are red and others blue is a reference to the theorizing about 'Blue Ocean Strategies' described in the paragraph Blue Ocean Strategi for uppslagsverk (Ch. 9.9). The redder the circles, the more intense the competition. Blue circles denote business models that are more difficult to imitate.
C) Three interrelated levels of quality
Web theses have three quality levels (Ch. 25.2). Please note that both technical quality and user quality are included in a web dissertation's scientificity (Ch. 4). The former are more 'invisible' in a customary thesis but need to be highlighted here as the web format is new.
32.4

Three chapters about web theses
The chapter Webbavhandlingar

(Ch. 25)

introduces what web theses

are and can become

and how they can be adapted to and influence Academia.
Three ecosystems for dissertations

(Ch. 26)

has a historical perspective on how new technologies have affected scientific conversations from letters to books, and in later decades, to Pdf documents - and now webification.
In Ecosystems for web-based theses

(Ch. 27)

, the driving forces for a possible new ecosystem for web-based theses and perhaps other research are investigated.
32.5

Thesis contributions

Thesis contributions (Ch. 31) has a much fuller text, with links, about these five partially overlapping areas. And ideas about further research.
1.3.1 Theory development
My concept Reference status (Ch. 5) is central to the thesis and is about how credibility and trust for knowledge is established and maintained in our time. Reference status is intimately connected with the business model of some businesses, exemplified in the thesis with encyclopedias and research communication. "Epistemic proximity" is a general model for evaluating Reference status.
1.3.2 Research methods
What I call Case Impact Studies (Ch. 7) is a method for the analysis of one or a few companies without a collaboration agreement. A normative model for encyclopedias - called e-Diderot - highlights the value of normative models
1.3.3 Research communication as an ecosystem.
Research communication is described as an ecosystem (Ch. 13) where the presentation of credible scientific research is the common denominator. This field combines the universities' driving forces for research communication and scientific research's presentation channels. Theses in web format - web theses - can strengthen research communication and scientific conversations.
1.3.4 The encyclopedia NE online as a national problem.
The thesis shows that NE online is a national problem (Ch. 15.2) that affects many. NE as a printed work and as a paid online service are different categories, not different versions. NE online is an obstacle to an equal for all modern free encyclopedia with signed articles. A study with a novel method that puts more emphasis on updates, number of references, and general availability, shows that Wikipedia is better and more valuable than NE.
1.3.5 Businesses and organisations
The main data studies in the thesis are about a company - Nationalencyklopedin AB (NE) - which was forced to carry out two transformations simultaneously. The first from selling a printed product to an online service, and the second learning that the basic logic that NE online cannot be a "version" of the printed content but is another category. Relationship between business models and ecosystems. Discussions about a company's 'right' owner and that the issue is handled differently in family businesses and large, often listed, groups.
1.3.6 Society and learning
About the significance of the thesis format for a broader readership. Dissertations and other research as a simultaneous service for different categories of readers is an innovative approach. The thesis contributes to strengthening The university's statutory outreach task↗.
Published: 2022.
Updated: June 25, 2023
Preface← 0
Summary
→ 2 Read me

12 kommentarer. Din är välkommen.
Om delning av en sida i avhandlingen (Kap. 1.3).